Fiber OPtic Cable
AFL's portfolio of fiber optic cable products is unmatched. Beginning with optical ground wire (OPGW), introduced in 1984 as AFL's flagship product, the line now spans to fiber optic cabling solutions being used in the world's harshest environments, including those above ground, below ground and even underwater.
Test and Inspection Products
AFL products are designed to provide accurate results every time. They are engineered to endure outside plant environments, and feature intuitive user interfaces that provide quick results without complicated training requirements. Product lines include optical time domain reflectometers (OTDRs), loss testing kits, inspection and cleaning, fiber identifiers, fault locators and more.
Fiber Optic Cleaning Equipment
The connectors entrusted to carry the critical information that passes through your network deserve far more than a wipe on a t-shirt. As data center bandwidth continues to increase, adherence to best practice fiber endface cleaning and inspection methods must improve. AFL's industry-leading cleaning and inspection solutions enable optimal data center performance levels and minimal service disruptions.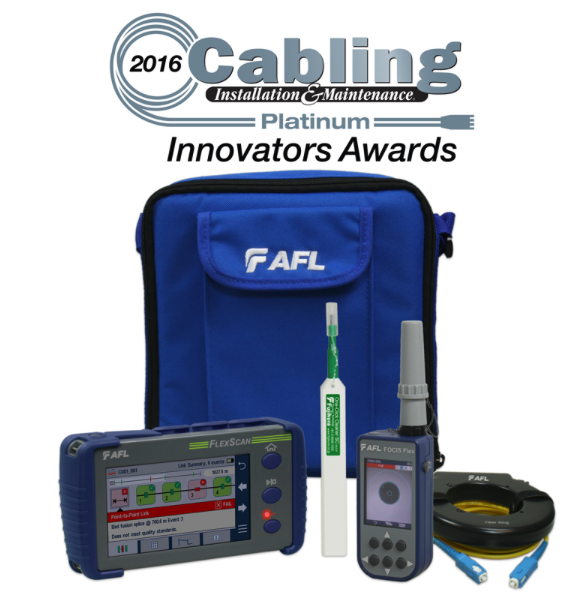 FOCIS Flex Fiber Optic Connector Inspection System
Pass/fail results in seconds: With the press of a single button, FOCIS Flex auto-focuses, captures and centers the end-face image, applies pass/fail rules, displays image and pass/fail results, and wirelessly transfers image and results to a paired Android or iOS smart device, FlexScan or FlexTester OTDR. All in a matter of seconds!

Independent, untethered operation: With rechargeable battery, integrated display, pass/fail analysis and internal storage, FOCIS Flex can be used independently – without requiring an external OTDR or display.

Pair with FlexScan or FlexTester OTDR: Still prefer to view and save images and pass/fail results on your FlexScan or FlexTester OTDR? No problem! Captured images and pass/fail results are immediately displayed and are easily saved in the Bluetooth-paired OTDR, along with associated OTDR and/or insertion loss test results.

Pair with Android or iOS device:  Receive and display inspection results on your Android or iOS device using AFL's free FOCIS Flex App (available from Google Play and Apple App Store). Save results to AFL's aeRos® cloud-based workflow management system.


Auto-save results internally or externally: FOCIS Flex internally stores thousands of results using file-naming capabilities similar to FlexScan and FlexTester OTDRs. A micro-USB port supports fast upload of internally stored results to PC, and ensures your FOCIS Flex software can be updated to the latest features and supported languages.

Wide range of adapter tips: Interchangeable adapter tips support single- and multi-fiber connector inspection for a wide range of patch cords and bulkhead-mounted connectors having either PC or APC polished end-faces.

Prepare Inspection Reports: Need to supply pdf or printed inspection reports? Use your FOCIS Flex with AFL's aeRos cloud-based reporting software or with included Windows®-compatible TRM® 2.0 Test Results Manager software. Simply upload your saved results, then prepare professional reports using TRM's Report Wizard.  Offering a variety of templates, TRM easily generates inspection-only reports or combines your inspection and OTDR or OLTS results into a single report.
Kit Configurations and Ordering Information:
FOCIS Flex Kits:  Kits include soft carry case / holster, user-selected adapter tips, TRM 2.0 Basic reporting software, Quick Reference Guide, USB cable, rechargeable battery and AC charger.